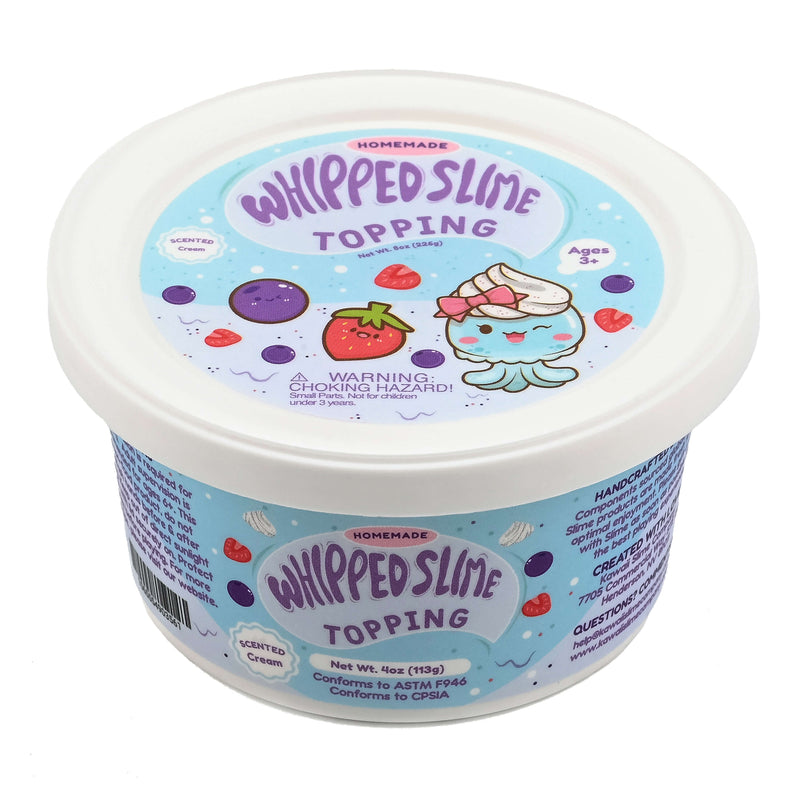 Cool & Slimey Whipped Topping
|

Write A Review
Product
Availability: Made to Order
Availability: Ready to Ship
Availability: Ready to Ship
Availability: Ready to Ship
Availability: Ready to Ship
Availability: Ready to Ship
Availability: Ready to Ship
Availability: Ready to Ship
Availability: Ready to Ship
Availability: Ready to Ship
Availability: Ready to Ship
What a cool, Slimey treat! Perfect for topping all of your delectable Slime creations at home or add a little dollop to one of our Ice Cream Pint Slimes. Our famous "meringue" texture is buttery and spreadable yet feels so light & airy! Even better, it holds its shape indefinitely so it can be used to make "whipped cream swirls". It's also scented with a scrumptious light whipped cream fragrance that is complimentary if combined with other Slimes! Each jar also comes with 1 "cherry on top"!
Shipping
What countries do you ship to?
We currently ship Worldwide! Delivery timeframes and shipping costs are calculated at checkout (before payment). We are proud to partner with DHL for all of our international orders. DHL provides fast and reliable shipping worldwide.
Customs Fees are always possible when shipping to a different country and are the sole responsibility of the buyer. We recommend choosing the DDP option at checkout so you can pre-pay your customs fees. If you prefer to wait and pay any applicable customs fees on delivery you will be notified once the package is in your country.
How long until you ship my order?
All orders need time to process and you can always find our current processing times displayed on the top bar of our website.
Handcrafted Slime Items are a handmade product produced and packaged in small batches to ensure quality and freshness. For this reason we need time to prepare your order.
Quick Ship Items (supplies, toys or merch) ship same or next day. If you purchase both Slime Toys and Quick Ship items we will ship all items together, once your Slime is finished being created.
How long until I receive my order?
USA Shipping Times
Please be advised that these timeframes are estimations. Due to COVID-19 most couriers have suspended any type of service guarantee. Even without the effects of COVID, certain things can affect these quoted shipping timeframes (public holidays, weather, unforseen delays, etc)
USPS First Class Mail
Processing Times + 3-5 business days for delivery
USPS Priority Mail
Processing Times + 2-3 business days for delivery
USPS Express Mail
Processing Times + 1-2 business days for delivery
UPS Ground
Processing Times + 1-5 business days for delivery
FREE Standard Shipping
We ship FREE standard shipping orders with UPS Ground.
Returns & Exchanges
What is your Return Policy?
All handcrafted Slime purchased is FINAL SALE. Due to Slime being an expendable product which degrades over time and for health and sanitary reasons, Slime cannot be returned, even if its unopened.
Slime Supplies & Toys have a 30 Day Return Policy. Return unopened and unused item for a full refund minus shipping costs and a 15% restocking fee.